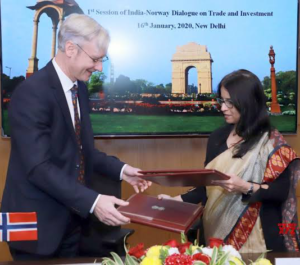 The first Session of India-Norway Dialogue on Trade & Investment (DTI) was convened in New Delhi.
The session was based on the Terms of Reference (ToR) signed between India and Norway in New Delhi, during the visit of Prime Minister of Norway.
This was the first meeting after the signing of DTI.
The first Session was preceded by an industry interaction on 15th January, 2020 with the representatives from Indian industry, where discussions were held on various areas of mutual interest likeblue economy, shipping & maritime, ICT, renewable energy, fisheries and MSME.