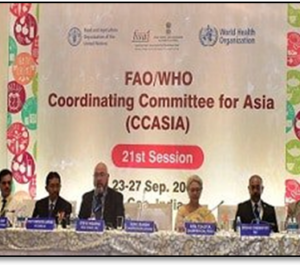 The 21stsession of the Food and Agriculture Organisation (FAO) and World Health Organisation (WHO) Coordinating Committee of Asia for 2019 was held at the Double Tree by Hilton Goa- Panaji, Goa from September 23-27, 2019. It was the second session of the Coordinating Committee in Asia, organized by the Food Safety and Standards Authority of India (FSSAI) in collaboration with the WHO and FAO of the United Nations (UN).
Key Points:
The aim of the session was to identify issues and explore best practices in food safety at primary production in the region and delegates from 18 member countries participated in the session.
The committee was initially elected in July 2015 and was re-elected in July 2017 by the Codex Alimentations Commission (CAC).