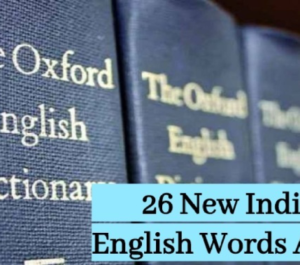 The Oxford Dictionary includes a range of colloquial terms, slangs, acronyms, and phrases as official new words for people to use.
About two years ago endearing Indian words like 'Abba' and 'Anna' were added to the dictionary.  The list of inclusions for 2018 also had words like 'gulab jamun', 'dadagiri', 'achcha', 'bapu' and 'surya namaskar'. As many as 70 Indian words were added that year.
But about a month back, the dictionary assumed a more serious tone and chose 'climate emergency' as the Word of the Year 2019. Other shortlisted words included 'Climate crisis', 'climate action', 'climate denial', 'eco-anxiety' and 'extinction'.
The latest edition of the Oxford Advanced Learner's Dictionary features 26 new Indian English words, including 'Aadhaar', 'chawl', 'dabba', 'hartal' and 'shaadi'.
The 10thedition of the dictionary has 384 Indian English words and incorporates over 1,000 new words such as chatbot, fake news and microplastic.