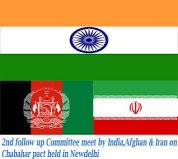 The2nd meeting of the Follow-up Committee for implementing trilateral Chabahar Agreement between India, Afghanistan and Iran was held in New Delhi. The meeting was held at the level of Joint Secretary/ Director General.
Agreement to include Mormugoa and New Mangalore Port from India:
During the meeting, it was agreed to include Mormugao (Goa) and New Mangalore Port (Karnataka) from India in addition to JNPT (Jawaharlal Nehru Port Trust), Mundra(Gujarat), Kandla(Gujarat) and Cochin(Kerala) ports as part of designated route under the Chabahar Agreement.
Progress in port operations:
These 3 countries headed a steady progress in port operations by India Ports Global Ltd company since the company took over the port operations Shaheed Beheshti Port at Chabahar in December 2018.
Over 5 lakh tons of cargo were handled successfully which also included exports from Afghanistan through Chabahar Port which began in February 2019.
About Chabahar Port: