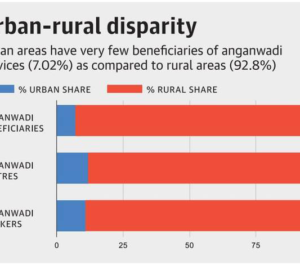 For every 100 anganwadi beneficiaries in the country, only seven are in urban areas, according to the government's response to a Right to Information (RTI).
This is primarily because of a severe lack of anganwadis in cities, leading to poor coverage of the government's flagship programme in early childhood development.
Anganwadis or day-care centres are set up under the Integrated Child Development Services (ICDS) by the Women and Child Development Ministry to provide a package of six services. The services include supplementary nutrition; pre-school non-formal education; immunisation, nutrition and health education; as well as referral services. The aim of the scheme is to reduce infant mortality and child malnutrition. Beneficiaries include children in the age group of six months to six years, and pregnant women and lactating mothers.
As per Census 2011, 32% of India's 1.2 billion population live in cities.
With these facts before it, the NITI Aayog has prepared a draft working paper to strengthen the ICDS programme in urban areas.