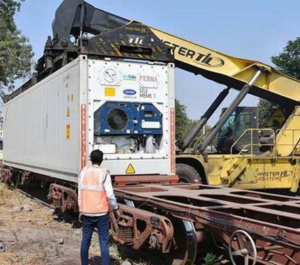 A 'fruit train', said to be the first of its kind in the country, was flagged off from Tadipatri Railway Station in Anantapur district carrying a load of 980 metric tonnes of locally grown bananas to the Jawaharlal Nehru Port in Mumbai, from where the consignment will be exported to Iran.
This is the first time in India that an entire train is being sent to the gateway port (JNPT) for export.
The bananas are being exported under the brand name 'Happy Bananas'. Farmers from Putlur region in Anantapur and Pulivendula in Kadapa district are exporting 'Green Cavendish' bananas to many international markets.