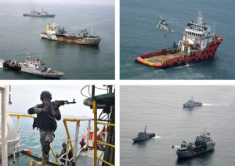 The Indian Navy,in collaboration with Indian Coast Guard, Cochin Port Trust and all other concerned stakeholders, conducted a large-scale anti-hijacking exercise off the Port of Kochi.
The Exercise code-named "Apharan"saw the participation of multiple agencies, including more than 12 ships and helicopters of the Indian Navy, Indian Coast Guard and Cochin Port Trust.
Apharan was aimed at streamlining the response mechanism/preparedness to thwart any attempt by anti-national elements to hijack a merchant's vessel or attempt forced entry of a rogue/commandeered merchant vessel into the Kochi harbour.