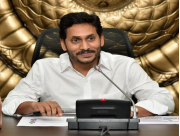 The Chief Minister of Andhra Pradesh (AP) Shri Yeduguri Sandinti Jagan Mohan Reddy launched a scheme for weavers named "Nethanna Nestham" at Dharmavaram of Anantapur district.
The aim of the scheme is to provide ₹ 24,000 per annum for each handloom weaver family.
Key Points:
The scheme would provide financial aid to about 85,000 families across the State for a period of 5 years. Thus, each family would get ₹. 1.2lakh at the end of 5 years.
The CM also announced ex-gratia to all the families of the deceased weavers who had committed suicide. Families of 57 weavers from Anantapur district, AP will be given a financial assistance of ₹.3.5 crores. The cheques would be delivered by public representatives and authorities.