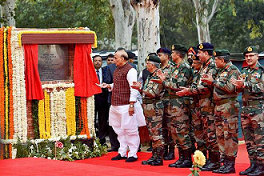 Defence Minister Rajnath Singh laid the foundation stone of Thal Sena Bhawan in Delhi Cantt on 21 February. The new Army headquarters will be set up near the Manekshaw Centre, Delhi.


Thal Sena Bhawan:
The Thal Sena Bhawan is spread over 39 acres. The multi-storeyed building can accommodate over 6000 personneland will have all the offices of the Army in the complex.
The army headquarters will be constructed in five years.