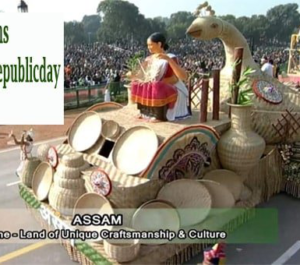 Defence Minister Rajnath Singh distributed the awards for best tableaux which was conducted on January 26, 2020 in Republic Day event.
There were a total of 22 tableauxincluding 16 from various states and union territories and remaining 6 from various ministries and departments.
Best Tableaux Awards (States and Union territories):
Assam's tableaux displayed with the theme 'Land of Unique Craftsmanship and Culture', had showcased the Xattriya tradition in the form of Bhortal Nritya was chosen as the best tableaux.
The second position was tied between Odisha which depicted Lord Lingaraja's Rukuna Rath Yatra, and Uttar Pradesh which showcased the culture of Sarva Dharma Samabhav.
Best Tableaux Awards(Ministry)
National Disaster Response Force(NDRF) won best tableaux for Ministry for showcasing the cutting-edge technology and instruments used by the force to carry out daring rescue operations in flood-hit and disaster hit areas.
Best Tableaux Awards (Departments)
Jal Shakti Missionwon best tableaux among departments for government's new initiative, 'Jal Jeevan Mission', which aims at providing functional tap connection to every rural household by 2024.
Central Public Works Departmentwon the second place for the theme "Kashmir se Kanyakumari".