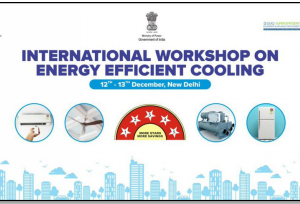 The Bureau of Energy Efficiency  (BEE), a statuary body under Union Ministry of Power, conducted an International Workshop on 12-13 December 2019 on 'Energy Efficient Cooling'at Scope Convention Centre in New Delhi.
The two-day international workshop was organised as part of 'Energy Conservation Week' being celebrated from 9- 14 December 2019.
Objective of Workshop:
To chart out steps towards accelerating development and deployment of efficient cooling appliances, equipment and systems.
To reduce energy intensity in country by optimizing energy demand and reduce emissions of greenhouse gases (GHG) which are responsible for global warming and climate change.
It was organized by BEE in association with International Energy Agency (IEA) under Super-Efficient Equipment and Appliance Deployment (SEAD) initiative of Clean Energy Ministerial (CEM) and International Partnership for Energy Efficiency Cooperation (IPEEC).