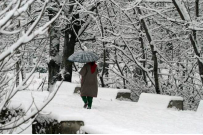 The traditional 40-day period of harshest winter in Kashmir known in the local parlance as 'Chillai-Kalan' began on 21 December 2019, with the upper reaches of valley receiving snowfall. Chillai-Kalan period which is known for sub-zero temperatures, frozen lakes and river, will end on 31 January 2020.
About 'Chillai-Kalan'
These 40 days are when the chances of snowfall are highest and the maximum temperature drops considerably. During Chillai-Kalan, the weather in Kashmir valley continues to remain dry and cold with minimum temperatures hovering below freezing point and the snow during this 40-day period freezes and lasts longer.
Even after Chillai-Kalan ends, the cold wave, however, continues even after that. Therefore Chillai-Kalan is followed by  a 20-day-long period called 'Chillai-Khurd'(small cold) that occurs between January 31 and February 19.