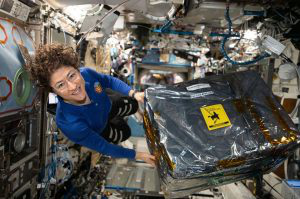 NASA Astronaut Christina Kochhas created a record for the longest single space flight by a woman. She has surpassed the earlier record of 288 days in space which was previously established by NASA astronaut Peggy Whitson in 2017.
She would return to Earth in February 2020. Till then, she would have spent more than 300 daysin the space. She is onboard the International Space Station since 14th March 2019.
The world record for the single longest mission by any space explorer is held by cosmonaut Valery Polyakov, who spent 438 consecutive days on board Russia's former space station Mir from January 1994 to March 1995.
About NASA:
Formed – July 29, 1958
Headquarters – Washington, D.C., United States