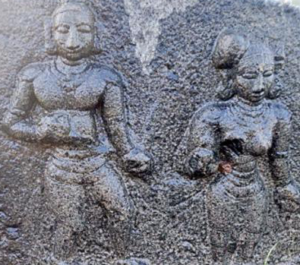 Near the Uthiramerur, two 18th-century 'plot stones' have been discovered.
Edamichi Village is located on the road from Salavakkam village to UthiramerurCircle. These are thought to be 18thcentury plot stones.
It has been customary for his wife to set herself on fire with a heroic death in battle to protect her ethnic group or her hometown.
The name of the conspiracy at that time was the "conspiracy". To commemorate the couple who embraced the heroic death, it was the practice of the day to carve their images in stone and worship them. These stones are called 'plot stones'.
A plot stone of 34 cm high and 47 cm wide is found with 8 lines of inscription. It is recorded that in 1706, after the death of her husband, Senthamal, a woman set herself on fire and set out on the fort. The image of Sentham is on the right and her husband's image on the left is embossed.
Another plot stone is 55 cm high and 78 cm wide. The image of the husband on the right and the wife on the left are carved into embossed sculptures.