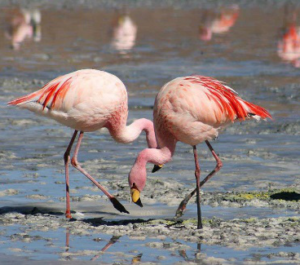 Ø The annual flamingo festival in Nellore district is round the corner with the winged visitors arriving in large numbers on their annual sojourn. 
Ø More than 40,000 flamingos can be seen in action at the lake. Overseeing arrangements for the Flamingo Festival from January 3 to 5. "Birds like Black-tailed godwit and Kentish plover, which are rare visitors, have also arrived at the lake this time,"
Ø A variety of aquatic and terrestrial birds including painted storks, large and little egrets, grey pelicans, grey herons, and water birds like northern pintails, black-winged stilts, northern shovellers, common teal, seagulls, terns, sandpipers, and common coots have come in large numbers this time.
About 75 bird species visit the sanctuary, of which 30 bird species are migratory.