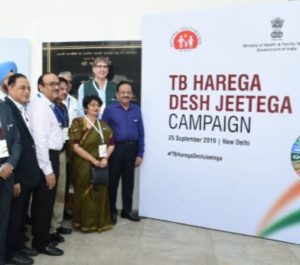 Union minister for Health and Family Welfare (HFW) Dr Harsh Vardhan launched 'TB Harega Desh Jeetega' campaign & National TB Prevalence Survey 2019 in New Delhi.
He flagged off a van for the National TB Prevalence Survey 2019 (25 vans will be part of the survey for 6 months) and unveiled TB India Report (2019).
21.5 lakh TB cases were reported in 2018 compared to 18 lakhs in 2017 (increase of 17%).
Key Points:
Target: India aims to eradicate Tuberculosis(TB) by 2025, ahead of the United Nations (UN) deadline of 2030 in its Sustainable Development Goals (SDGs).
About Ministry of Health and Family Welfare:
Formed: 1976
Constituency of Dr Harsh Vardhan: Chandni Chowk, New Delhi