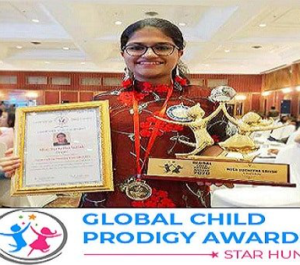 A Dubai-based Indian girl, Sucheta Satish (14),who sings in 120 languages,has won the '100 Global Child Prodigy Award 2020′ in the category of singing. The award ceremony was held in Ashok Hotel, Delhi.
Key Points:
Suchetha, a student in Dubai Indian High School, was awarded along with 99 other child prodigies at the awards, which was attended by chief guest Nobel Peace Prize (2014) winner Shri Kailash Satyarthi.
About 100 Global Child Prodigy Award:
This award is a platform to showcase the talent of children in dance, music, art, writing, acting, modeling, science, sports etc. The award is supported by Dr. APJ Abdul Kalam International Foundation and Oscar Award winning music producer AR Rahman among others.