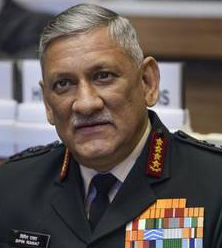 Indian Army General Bipin Rawathas been named as the country's first Chief of Defence Staff (CDS). The Chief of Defence Staff will be a 4-star General, the principal military advisor to the defence minister, and will head the new Department of Military Affairs.
The Chief of Defence Staff will ensure the jointness in training, logistics and procurement of the three services. General Rawat is the first officer to hold the post of the Chief of Defence Staff
The Defence Ministryhad also amended the army, air force and navy rules by bringing in a new clause that allows the CDS to serve upto a maximum age of 65 years.