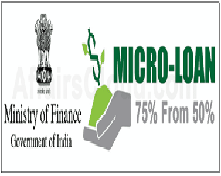 According to the amendment of Credit Guarantee Fund for Micro Units (CGFMU) schemeas notified by the ministry of Finance states that the  coverage of lender's loss in case of loan default is increased to 75% from earlier 50%.
The aim of the amendment is to incentivise lending to micro businesses which bear the impact of coronavirus outbreak & the lockdown.
About the CGFMU scheme:
The scheme was announced in April 2016 covering microloans up to Rs 10 lakhs extended under the Pradhan Mantri Mudra Yojana.
The loans are sanctioned to Self Help Groups (SHGs) between 10 lakhs and 20 lakhs during FY 2020-21 under the scheme, where the 1st loss guarantee is Nil & the 2ndis 75% per annum in subsequent years.