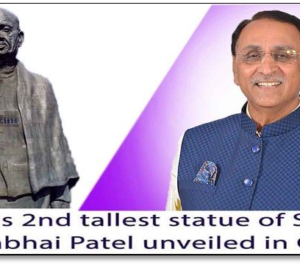 The Chief Minister of Gujarat Shri Vijay RamniklalRupani unveiled the world's 2ndlargest statue of Sardar vallabhbhai Patel at Sardardham campus near Vaishnodevi circle in Ahmedabad, Gujarat.
This bronze statue which is 50 feet tall weighing 70,000 kilograms was built at a cost of Rs 3.25 crores. Padma Bhushan awardee Ram VanjiSutar(Sculptor) who designed the world's tallest statue has built this world's second tallest statue too.
Key Points:
The world's tallest statue known as the 'statue of unity' of Sardar Patel was built at Kevadiya in Narmada district of Central Gujarat. Its height is 182 meters (597 ft) and was built at a cost of Rs 3000 crores.