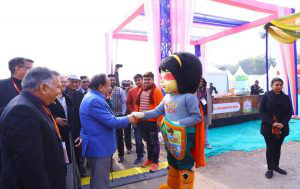 The Union Health Minister has inaugurated the 2nd edition of "Eat Right Mela" in New Delhi. The Eat Right Mela of Food Safety and Standards Authority of India (FSSAI) is a commendable effort and outreach activity for citizens towards eating right.
The Union Minister launched 'The PURPLE Book' a handbook on diets for diseases. The book provides general guidelines for hospitals on suitable diets for common medical conditions such as diabetes, hypertension, cancer, gut disorders and so on in a simple format and has been developed and vetted by experts in the field of food and nutrition. This book is available for free download on www.fssai.gov.in.
The Union Minister also launched NetSCoFAN (Network for Scientific Co-operation for Food Safety and Applied Nutrition), a network of research & academic institutions working in the area of food & nutrition along with the NetSCoFAN directory, covering detailed information of various heads/Directors and lead scientists of lead and associated partnering institutions.
The NetSCoFAN would comprise of eight groups of institutions working in different areas viz. biological, chemical, nutrition & labelling, food of animal origin, food of plant origin, water & beverages, food testing, and safer & sustainable packaging.
CSMT gets 'Eat Right' station certificate
Chhatrapati Shivaji Maharaj Terminus (CSMT)railway station in Mumbai has been conferred with 'Eat Right Station' certification with the five-star rating by the Food Safety and Standards Authority of India (FSSAI) for food safety and hygiene.
CSMT has been judged on the basis of compliance of food safety and hygiene, availability of healthy diet, food handling at preparation, food waste management, promotion of local and seasonal food and creating awareness on food safety and healthy diet.
'Eat Right Station' initiative is a part of the 'Eat Right India' movement launched by Food Safety and Standards Authority of India (FSSAI) and a Fast-Moving Consumer Goods (FMCG) major which is aimed at promoting food safety and hygiene at the static catering units at railway stations.
Eat Right Movement
The mela is a part of the Eat Right Movement. The movement is aligned with Ayushman Bharat, POSHAN Abhiyaan, Swachh bharat Mission and Anemia Mukt Bharat. It was launched by the FSSAI (Food Safety and Standards Authority of India). The movement is significant as there is a need to increase awareness on preventive health for all. It also aims to reduce increasing burden of non-communicable diseases like hypertension, diabetes, widespread deficiencies in vitamins and aminerals