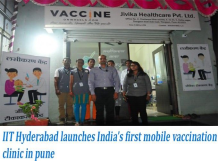 Jigneh Patel, a fellow at Center for Healthcare Entrepreneurship (CHE)at Indian Institutes of Technology (IIT) Hyderabad has launched a 'Vaccination on Wheels Clinic' in Pune city's PCMC area, Maharashtra.
The one of its kind service has been started in collaboration with Bill and Melinda Gates Foundation.
He had received a grant for the service under the Foundation's 'Grand Challenges Explorations'. He then founded Jivika Healthcare to provide this vaccination service.