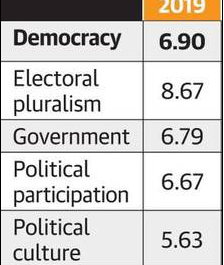 The latest edition of the Democracy Index spells gloom for India. The world's biggest democracy slipped 10 places in the 2019 global ranking to 51st
The survey published attributes the primary cause of "the democratic regression" to "an erosion of civil liberties in the country".
India's overall score fell from 7.23 to 6.9, on a scale of 0-10, within a year (2018-2019) — the country's lowest since 2006.
A year of democratic setbacks and popular protest, was done by The Economist Intelligence Unit — the research and analysis division of The Economist Group.