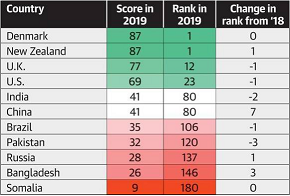 India's ranking in the Corruption Perceptions Index (CPI-2019) has slipped from 78 to 80 compared to the previous year, said Transparency International questioning the "unfair and opaque political financing" in the country. Its score of 41 out of 100 remains the same.
The report has revealed that a majority of countries are showing little to no improvement in tackling corruption.
The 2019 CPI draws on 13 surveys and expert assessments to measure public sector corruption in 180 countries and territories, giving each a score from zero (highly corrupt) to 100 (very clean).