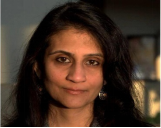 Indian-American Dr Monisha Ghoshhas been appointed as the first woman Chief Technology Officer at the US government's powerful Federal Communications Commission.
She will advise Indian-American Chairman of the FCC Ajith Pai and the agency on technology and engineering issues, and work closely with the Office of Engineering and Technology. Ghosh will take charge on January 13 next year.
She replaces Dr Eric Burger.
The FCC regulates interstate and international communications by radio, television, wire, satellite and cable in all 50 states, the District of Columbia and US territories.