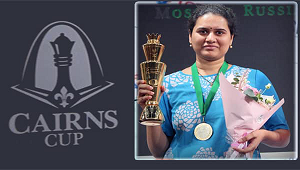 Grandmaster Koneru Humpyhas won the Cairns Cup Chess tournament held at St.Louis, US (United States). She won the title after finishing 6 points off 9 rounds and a cash prize of $45,000. This was the second edition of the Cairns Cup.
About Cairns Cup Chess tournament:
Saint Louis Chess club will host the Cairns Cup, an elite level tournament for the top female players around the world & the total prize fund is $180,000.