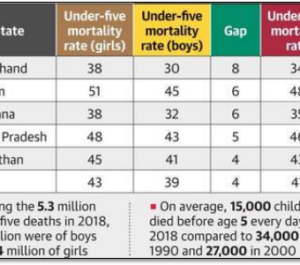 India is among the few countries in the world where, in 2018, the mortality for girls under 5 years of age exceeded that of boys, according to the 'Levels and Trends in Child Mortality' report by the United Nations (UN) inter-agency group for child mortality.
The report states that in 2018 fewer countries showed gender disparities in child mortality, and across the world, on average, boys are expected to have a higher probability of dying before reaching age-5 than girls.
According to India's 2017 Sample Registration System (SRS) the States with the highest burden of neonatal mortality are Madhya Pradesh, Odisha and Uttar Pradesh, with 32, 33 and 30 neonatal deaths per 1,000 live births, respectively.
In this sense, Uttar Pradesh is the State with the highest number of estimated newborn deaths in India, both because of the high neonatal mortality rate and because of the large cohort of births that occur every year in the State," noted information released by UNICEF (United Nations Children's Fund).
Half of all under-5 deaths in 2018 occurred in five countries: India, Nigeria, Pakistan, the Democratic Republic of the Congo and Ethiopia. India and Nigeria alone account for about a third.
Current trends predict that close to 10 million 5- to 14-year-olds, and 52 million children under 5 years of age, will die between 2019 and 2030.