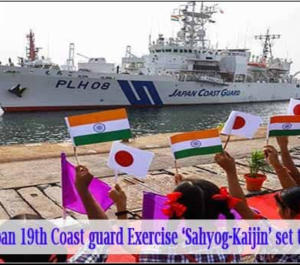 The Japan Coast Guard (JCG) Ship 'Echigo PLH08'has arrived Chennai on a five-day goodwill visit and it will participate in the 19th edition of Annual Joint Exercise 'Sahyog-Kaijin' which will be begin on January 16, 2020 with the Indian Coast Guard (ICG) off in Chennai, Tamil Nadu.
It is aimed at further strengthening bilateral ties and mutual understanding between the two Coast Guards and to enhance interoperability in communication and Search and Rescue procedures and sharing of best practices.
First edition of 'Sahyog- Kaijin' exercise between two coast guards took place in 2000.
Four Indian Coast Guard Ships, their aircraft and a vessel from National Institute of Ocean Technology will be participating along with Japan Coast Guard Ship.