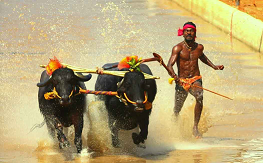 Gowda, competing in a kambala event — a traditional race in which the jockey runs along with the buffaloes he is shepherding — covered 142.5 m in 13.62 seconds at the Aikala-Bava kambala near Moodbidri.
Converting this into 100m sprint, sports buffs said the kambala runner had clocked 9.55 seconds, just a wee bit ahead of Jamaican Usain Bolt's world record of 9.58 seconds!
Mahindra Group chairman Anand Mahindra suggested that Union Minister of State for Youth Affairs and Sports Kiren Rijiju could provide training facilities for the runner.