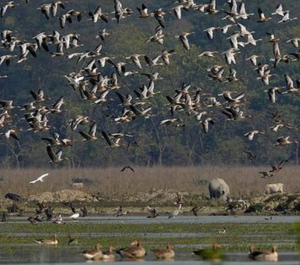 Kaziranga recorded 96 species of wetland birds – one of the highest for wildlife reserves in India, according to the second wetland bird count conducted.
The survey registered a total of 19,225 birds belonging to 96 species under 80 families. The first waterfowl census in 2018 had yielded 10,412 birds covering 80 species, belonging to 31 families.
With 6,181 individuals, the bar-headed goose led the species count, followed by the common teal at 1,557 and northern pintail at 1,359. All three belong to the family anatidae.
The first wetland bird survey in Kaziranga, a UNESCO World Heritage Site since 1985, was conducted in 2018.