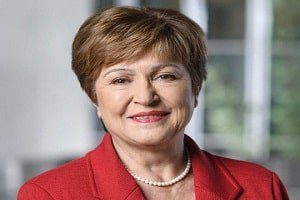 Bulgaria's economist Kristalina Georgieva (66)has been elected as the new head of the International Monetary Fund (IMF). She will be the second woman chief of the 189-member IMF & will take over as Managing Director of the IMF on October 1, 2019. She will replace Christine Lagarde, who resigned from her post after being elected president of the European Central Bank (ECB).
Key Points:
Prior to this, she was the Chief Executive Officer of the World Bank in January 2017. She was also the interim president of the World Bank Group from February 1 – April 8,2019.
About IMF:
Formation: 27 December 1945
Headquarters: Washington, D.C. U.S.
It  is an international organization which promotes international monetary cooperation and provides policy advice and technical assistance to help countries build and maintain strong economies.It presently has 189 member countries.