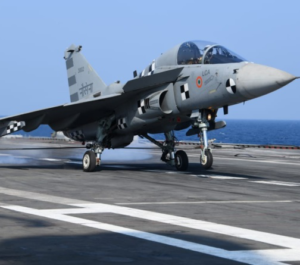 The Naval variant of the indigenous Light Combat Aircraft (LCA)-Mk1 Tejas under development successfully completed the first arrested landing on board aircraft carrier INS Vikramaditya.
Two prototypes have been flying as part of the development. The SBTF, which replicates the flight deck of an aircraft carrier, was specifically built to train Naval pilots in the complex manoeuvres of landing on the short flight deck of an aircraft carrier before they move on to the actual carrier.
DRDO offered to develop a new twin-engine deck-based fighter jet for the Navy, tapping into its experience of developing the naval LCA, and it should be ready by 2026.
The Navy operates the MiG-29K fighter jets from the INS Vikramaditya. These Russian jets will also fly from the first indigenous aircraft carrier Vikrant once it enter service. The force is also evaluating global tenders for 57 carrier-based, twin-engine fighter aircraft.