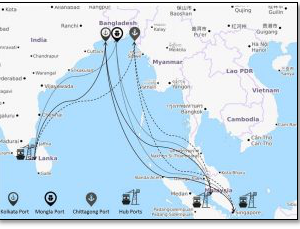 The Ministry of Shipping (MoS)announced that Mongla and Chattogram (Both in Bangladesh) have been declared as Ports of Call under "Coastal Shipping Agreement" between India & Bangladesh.
The Port of Mongla is declared as Port of Call under PIWT&T (Protocol on Inland Water Transit and Trade)and Chattogram port is not part of PIWT&T.
An MoU (Memorandum of Understanding), agreement and Standard Operating Procedure (SOP) on the use of Chattogram Port & Mongla Ports for goods movement between India and Bangladesh has been signed between both the nations.
The Ports of Call in India are Kolkata (West Bengal), Haldia (West Bengal), Pandu, Karimganj (Assam), Silghat (Assam), Dhubri (Assam).