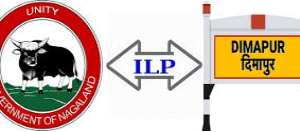 The state government of Nagaland has extended Inner Line Permit (ILP) regime to Dimapur district, which is the commercial hub of the state. Dimapur was the only district that was not under ILP regime unlike the rest of Nagaland, which came into being in 1963. The ILP regime was also extended to neighbouring Manipur with President Ram Nath Kovind signing the order in this effect.
Key Highlights
The Inner Line permitwas extended by the Governor of Nagaland in exercise of powers conferred under Section 2 of Bengal Eastern Frontier Regulation, 1873. Earlier, on 15 February, state Cabinet had approved the proposal to extend ILP to Dimapur.
As per the notification: All non-indigenous people who have entered district after 21 November 1979, will have to obtain ILP within 90 days from 9 December 2019.