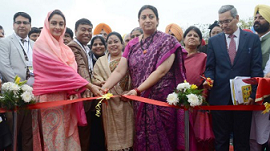 The Ministry of Food Processing Industries (MoFPI) with the Ministry of Women and Child Development (MoWCD) will host the first National Organic Food Festival in New Delhi between February 21 to February 23, 2020.
It aims to strengthen the organic marketand empower women entrepreneurs in the area of production and processing of organic products.
Theme:Unleashing India's Organic Market Potential.
India has the 9thlargest World's Organic Agricultural Land and the largest number of producers.
Sikkimis the first organic state in the world. All of its farmland is certified organic.