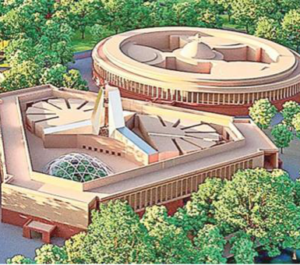 A new Lok Sabha central hall big enough to house 900 Members of Parliament (MPs), and flexible enough to house up to 1,350 MPs for a joint Parliament session will be the center piece of the Central Vista redevelopment plan that has a deadline of 2024.
The shape of the present circular building designed by architects Edwin Lutyens and Herbert Baker in 1912-13, was based on the Chausath Yogini temple, one of the oldest heritage sites in India.
According to presentations made by the Ahmedabad-based HCP Design, the new triangular Parliament building will come up next to the existing complex, the Indira Gandhi National Centre of Arts will be relocated with some of the new government buildings coming up where it is located, and the National Archives will be remodelled.