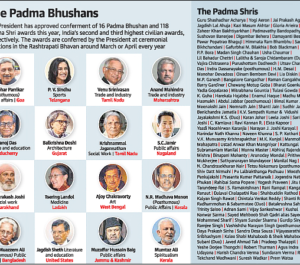 Social worker Krishnammal Jagannathan,  industrialist Venu Srinivasan and littérateur Manoj Das have been chosen for the Padma Bhushan awards from Tamil Nadu and Puducherry.
Carnatic vocalists C.Lalitha and C.Saroja, artist Manohar Devadoss, social worker S. Ramakrishnan, nagaswaram vidwans Kalee Shabi Mahaboob and Sheik Mahaboob Subani and IIT-Madras professor Pradeep Thalappil from Tamil Nadu, and artist V.K. Munusamy from Puducherry are the recipients of the Padma Shri awards.
Krishnammal Jagannathan, 94, heads the Land for Tillers' Freedom (LAFTI), an NGO working for the upliftment of women belonging to the Scheduled Castes and their families, particularly in the Thanjavur region.
Jagannathan had worked extensively in areas like Kilvenmani following the massacre in 1968, when 44 people belonging to the SC community were burnt by henchmen from an intermediate caste.