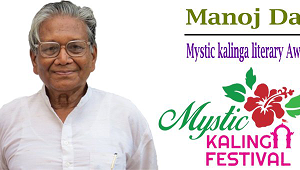 Famous Odia and English writer Manoj Das, 85 years old, will receive Mystic Kalinga Literary award– Indian and Global languages, during the 4thedition of the 2 day Mystic Kalinga Festival (MSF).
Mystic Literary award has been instituted to recognize and celebrate inspiring writers, poets and performers.
Cash Prize: The Mystic Kalinga Literary Award will carry a cash prize of Rs 1 lakh, khadi shawl and a certificate.