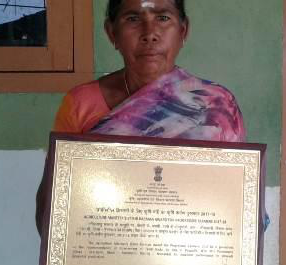 Paramathi, an old woman from Kunjampalayam village, who earned high yields in sesame cultivation, has achieved a record of recognition as a pioneer farmer to the Prime Minister.
Farmer P. Papathi belongs to Kunjampalayam, a suburb of Kapilakurichi near Paramathi, Namakkal district.
He has sown his own 1 hectare of land in 2017-18. Cultivated on the advice of the Agriculture Department, Papathi has taken a yield of 1,210 kg / ha.
The Government of Tamil Nadu recommended this for the Central Government's award. Following this, the Prime Minister of India congratulated Krishi Karman, a pioneer farmer award and a check for Rs. 2 lakh.