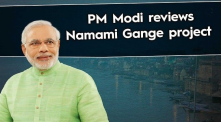 The Prime Minister of India Shri Narendra Modi chaired the 1stmeeting of the National Ganga Council in Kanpur, Uttar Pradesh (UP).
The aim of the council was to reinforce the importance of a 'Ganga-centric' approach in all departments of the concerned states as well as relevant Central Ministries.
The council was responsible for superintendence of pollution prevention and rejuvenation of River Ganga Basin, including Ganga and its tributaries.
20,000 crores allocated: Various initiatives undertaken by the govt like Namami Gange project in 2014 were reiterated. The Central Government, for the 1st time made commitment of Rs. 20,000 crores for the period 2015-20 to the five states (Uttarakhand, Uttar Pradesh, Bihar, Jharkhand, and West Bengal) through which Ganga passes, to ensure adequate and uninterrupted water flows in the river.