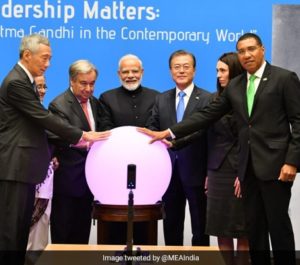 Prime Minister Narendra Modi inaugurated   a 50 kilowatt 'Gandhi Solar Park' at the UN headquarters.
PM Modi and other leaders also released a commemorative postage stamp of Mahatma Gandhi, at the programme "Relevance of Mahatma Gandhi in the Contemporary World" at the UN headquarters.
The event was hosted to celebrate the 150th Birth Anniversary of Mahatma Gandhi, which will underline the continuing relevance of Gandhian thoughts and values in today's world.