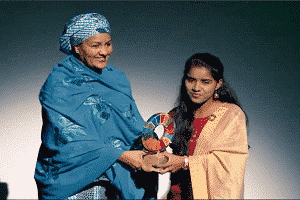 Rajasthan's Payal Jangir, aged 17, became the first Indian to receive the Changemaker Award 2019at the Goalkeepers Global Goals Awards 2019 presented by the Bill and Melinda Gates Foundation at a ceremony held in New York, United States.
Key Points:
She hails from Hinsla village, Rajasthan and was awarded for her work towards the abolition of child marriage in her village and other neighbouring areas.
She is the President of her village's Children's Parliament (Bal Panchayat).
Prime Minister of India, Mr Narendra Modi was also conferred with Global Goalkeeper' Award 2019 by Bill and Melinda Gates Foundation for Swachh Bharat Abhiyan (SBA).