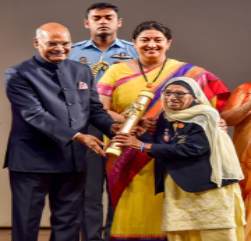 Republic President Ramnath Govind has been honored with the 'Women Shakti' award for the 15 women who have transformed society and achieved various achievements.
Peena Devi:
Beena Devi, a native of Mungo district, is famous for her mushroom cultivation.
Man gour:
The 103-year-old deer are known as the 'Miracle of Chandigarh'.
Kalawati Devi:
Goddess of the Sondav Kalawati of Kanpur, Uttar Pradesh. Ivan, who works for Cotton, is hoping to end the practice of constipation in the open air in Kanpur district.
Bhudevi :
The state of Andhra Pradesh is striving for the advancement of Sri Boolam Devi, Aboriginal women and widows.
Arifa Jan:
Arifa John, from Jammu and Kashmir, has recovered the extinct Numta artisan craft and trained more than 100 women.
Sammy Mummu :
Environmentalist from the state of Jharkhand, Sami Mummu is known as 'Lady Dajan'. Partnership with the state forest department, they have planted more than 3 million and planted more than 2.5 million trees.
Nilja Wangmo:
Who runs a restaurant in Ladakh, has provided restaurant management training to over 20 women living in remote areas.
Rashmi Uttwadheshi:
Rashmi, who hails from Nagapuri, has been in the research and development division of the motor vehicle industry for the past 36 years.
Tashi, Nungashi Malik:
Twins sisters from Uttarakhand climbed the summit of Mount Everest in 2013.
Kaushiki Chakraborty:
A singer with 15 years of experience in Hindustani music, Iwak excels in both Kayal and Dumri style.
Avani Chathuvedi, Bhavna Kant and Mohana Singh Jitwal
The first female heroes to be inducted into the Indian Air Force.
Bhagirathi Amma:
Thovil Thosvil is a class 4 student under literacy program in Kerala.
Khatiyayani Amma:
Eva, who is from Kerala, tops the list in Class 4 of 2018 with 98% marks.