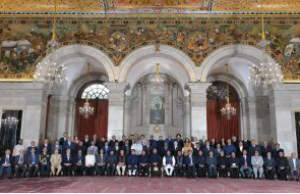 Rashtrapati Bhavan hosted a conference of 46 Heads of Central Universitiesand Institutes of Higher Learning in several fields including agriculture, pharmaceuticals, aviation, design, petroleum and energy.
Each of these institutes will be instrumental to the realization of the country's socio-economic goals.
During the conference, different sub-groups comprising of heads of various institutes made presentations on issues such as the promotion of research, promotion of innovation and entrepreneurship among students and building industry-academia linkages.