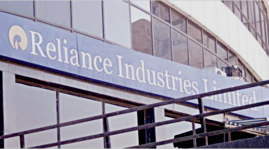 Reliance Industries (RIL)ended Indian Oil Corporation's (IOC) 10-year reign as India's largest corporation on the Fortune India 500 list.
The Mukesh Ambani-led conglomerate also became the first privately-held and the only company apart from the state run oil-refiner to top the list since it was first published in 2010.
The revenue of the Fortune India500 companies in the 2019 list grew by 9.53%, while profit grew 11.8%. A total of 57 companies dropped off the list for reasons including consolidation within the public sector banks, public sector undertakings, as well as the private sector.
It is to be noted that the list does not take into account subsidiaries of companies, hence many of the takeovers resulted in the acquired companies being excluded.
Some of these names include Hindustan Petroleum Corporation Limited which was acquired by ONGC; REC (formerly Rural Electrification Corporation Limited) was acquired by the Power Finance Corporation; and, Vijaya Bank and Dena Bank merged into Bank of Baroda. In the private sector, troubled steelmaker Bhushan Steel was bought by Tata Steel, while Capital First merged with IDFC Bank to create IDFC First Bank.