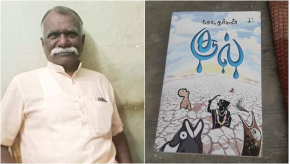 Tamil writer Cho Dharman has won the 2019 Sahitya Akademi award for his novel Sool, depicting the life of the people in the lower rung of society at Urulaikuddi village in Thoothukudi district.
He published his first short story in 1992 and followed by a novel Dhoorvai.
The novel Koogaireceived critical acclaim and it won him the Iyal award of the Canada-based Tamil Literary Garden.
Tharoor wins Akademi's 2019 award for english
The Sahitya Akademi announced its annual literary awards for 2019 for works in 23 languages, including one for Shashi Tharoor's non-fiction book about British rule in India.
The Akademi announced that it would honour seven books of poetry, four novels, six books of short stories, three of essays and one each of non-fiction, autobiography and biography. The award, including ₹1 lakh in cash, would be presented to the authors at a ceremony on February 25, 2020.
An Era of Darkness: The British Empire in India' by Mr.Tharoor, who is a Congress MP, was selected in the English category.