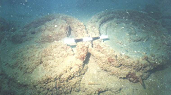 The Chola Dynasty port city in Tamil Naduthat vanished from maritime history around 1,000 years ago will be digitally reconstructed by a consortium led by the Department of Science and Technology.
There are exhaustive narrations in works of Sangam Tamil literature to infer that the city, located 30 km from the existing Poompuhar town in southern TN, was submerged due to "kadalkol" or rising sea levels.
The reconstruction of Poompuhar is part of DST's Indian Digital Heritage project — an exhibition of its first project 'Digital Hampi' is currently on display at the National Museum.