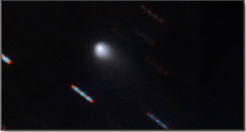 According to the International Astronomical   Union (IAU), a second interstellar object named 2I/Borisov has been discovered in the solar system. It was discovered by amateur astronomer Gennady Borisov from MARGO observatory, Crimea on August 30, 2019 which looked like a comet from a 0.65-metre telescope built on his own. The first interstellar object was 1I/"Oumuamua
Key Points:
It has an orbit as hyperbolic.
2I/Borisov will make its closest approach to the sun on 7 December 2019.
The conclusions of the discovery has been supported by the National Aeronautics and Space Administration's (NASA) Jet Propulsion Laboratory (JPL) Solar System Dynamics (SSD) Group
About an interstellar object:
An interstellar object is an astronomical object- an asteroid, comet or possibly planet, but not a star or substar, that is located in interstellar space and is not gravitationally bound to a star. Interstellar space is the physical space within a galaxy beyond the influence each star has upon the encompassed plasma.