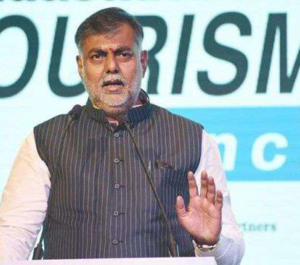 Union Tourism Miniter Prahlad Singh Patel informed that sign board in Chinese Language have been put up at five Archaeological Survey of India (ASI) protected Archaeological Sites located in Uttar Pradesh (UP).
ASI Sites include- (1) Sarnath, (2)the Buddhist relics at Chaukhandi Stupa, (3) Kushinagar and the Mahaparinirvana Temple,(4) Piparahwa and (5) Shravasti.
Key Highlights:Tourism Ministry had earliest instructed ASI that sign boards of foreign language will be installed at all iconic archaeological sites, keeping in mind the convenience of foreign travelers.
Objective of this initiative is to increase the footfall of both foreign as well as domestic tourists under Prime Minister's Vision 2020.
About Archaeological Survey of India (ASI)
It is an Indian government agency that was founded in 1861 by Alexander Cunningham who was also the first Director-General of ASI.
It is attached to Union Ministry of Culture. It is responsible for archaeological research as well as conservation & preservation of cultural monuments in India.