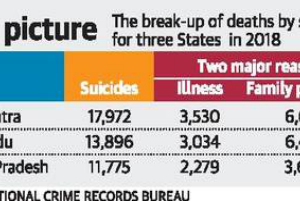 Tamil Nadu ranked second after Maharashtra in the number of suicides reported in 2018.
The National Crime Records Bureau (NCRB) statistics revealed that a large number of people took the extreme step owing to illness and family problems.
Tamil Nadu also contributed to 10.3% of the total suicides reported in the country.
The State reported the maximum number of 6,433 suicides committed due to family problems while 3,034 people ended their lives owing to health issues.
Maharashtra reported the maximum of 231 cases of government servants committing suicides followed by Tamil Nadu with 173 cases.
No country for elders
Tamil Nadu was one of the top three States in India when it came to offences against senior citizens (aged above 60). As many as 3,162 crimes against senior citizens were reported during the year compared to 2,769 cases in 2017.
While the number of such offences stood at 2,241, a majority of them (2,230 cases) related to crimes booked under the provisions of the Tamil Nadu Property (Prevention of Damage and Loss) Act.
U.P. tops list in crimes against women
Uttar Pradesh topped the list with 59,445 cases.
The National Crime Records Bureau (NCRB) published the annual Crime in India Report 2018 on Wednesday. It was published with provisional data, as five States — West Bengal,Assam, Arunachal Pradesh, Meghalaya and Sikkim — did not send clarifications sought by the NCRB despite repeated reminders.